IN MEMORIAM
---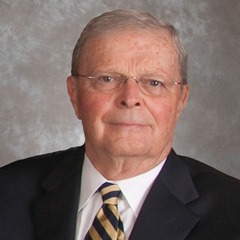 Bob Holleran
On August 21, 2020, we learned of the unexpected passing of our Vice Chairman of the Board, Bob Holleran. Bob joined Clinton National Bank in 1969. He was our President and CEO from 1977 until his retirement from that position in 2017. Under Bob's leadership, the bank grew to nine locations with over 100 employees and assets of $376,000,000. Bob will be greatly missed and will be remembered for his vast knowledge, wisdom, professionalism, dedication and strength. He left a legacy which will continue on forever at Clinton National Bank.
---
Friendly Staff Members Ready to Help
When you need help with your finances, you want people who both care about your financial needs and can help you achieve your goals. Whether you want to open an account or have a simple question about any of our services, we're here to help.
Board of Directors

Al Goerdt

Chairman of the Board

Steve Thacker

Co-President

Jenny Boysen

Co-President

Tom Fullerton

Retired CNB Executive VP

Julie Burke Smith

President, WJ Young & Co.

Jeff Stoutner

Attorney

Leadership

Steve Thacker

Co-President

Locations:

Main Banking Center

Jenny Boysen

Co-President

Locations:

Main Banking Center

Lenders

Mindy Burggraaf

Vice President & Real Estate Loan Manager

NMLS: 704237

Locations:

Trust & Real Estate Building

Gail Clements

Loan Officer & Assistant Camanche Office Manager

NMLS: 419315

Locations:

Camanche Banking Center

Debbie Farrell

Vice President & Camanche Office Manager

NMLS: 419317

Locations:

Camanche Banking Center

Bernie Holtkamp

Assist. Vice President & Installment Loan Manager

NMLS: 419319

Locations:

Main Banking Center

Joel Kaczinski

Vice President & Loan Officer

NMLS: 419316

Locations:

Andover Banking Center

Rich Klahn

Vice President & Commercial Loan Officer

NMLS: 419313

Locations:

Main Banking Center

John Mielk

Loan Officer

Locations:

Miles Banking Center

Mark Milder

Senior Vice President & Senior Lender, North Market

NMLS: 419304

Locations:

Preston Banking Center

Mallory Ries

Loan Officer & North Market Loan Administration

Locations:

Sabula Banking Center

Tevin Stoecker

Consumer Lender

Locations:

Main Banking Center

Jared Voss

Loan Officer

NMLS: 1681464

Locations:

Main Banking Center

Jason Wheat

Senior Vice President & Senior Lender, Main Market

Locations:

Main Banking Center

Bonnie Yaddof

Preston Branch Manager & Loan Officer

NMLS: 1434039

Locations:

Preston Banking Center

Trust

Tara Bellich

Vice President & Trust Officer

Locations:

Trust & Real Estate Building

Dave Helscher

Senior Vice President
Trust Officer

Locations:

Trust & Real Estate Building

Kristi McCune

Trust Operations Officer

Locations:

Trust & Real Estate Building

Ted Shemwell

Vice President &
Trust Officer

Locations:

Trust & Real Estate Building

Mary Kay Wik

Vice President & Trust Officer

Locations:

Trust & Real Estate Building

Officers & Managers

Ricci Aquilani

Senior Vice President, Operations & Compliance Officer

Locations:

Main Banking Center

Monica Bormann

Sabula & Miles Branch Manager

Locations:

Sabula Banking Center

Lynn Chambell

Assistant Vice President

Locations:

Main Banking Center

Kim Gregory

Assistant Vice President, Head Teller & Vault Manager

Locations:

Main Banking Center

Kathy Hand

Vice President, Loan Operations Manager

Locations:

Main Banking Center

Jessica Lawrence

Lyons Assistant Branch Manager

Locations:

Lyons Banking Center

LaRee Mangler

Assistant Vice President, Marketing &
Business Development

Locations:

Main Banking Center

Karen Marshall

Human Resources &
Training Officer

Locations:

Main Banking Center

Toni Milnes

Vice President, Chief Financial Officer & Cashier

Locations:

Main Banking Center

Tracy Reynolds

Vice President & Customer Service Manager

Locations:

Main Banking Center

Kevin Ross

Information
Technology Officer

Locations:

Main Banking Center

Kristi Seamer

Andover Office Manager

Locations:

Andover Banking Center

Christine Smith

Vice President &
Operations Officer

Locations:

Main Banking Center

Lisa Snyder

Assistant Vice President Real Estate Loan Administration

Locations:

Trust & Real Estate Building

Brooke Stahl

Lincolnway Assistant Branch Manager

Locations:

Lincolnway Banking Center